Grace Recovery Services, LLC is a professional collateral recovery agency located in Brewton, Alabama. We provide repossession services to the lending communities in West Virginia and southwest Alabama with a commitment to safety and efficiency in recovering valuable collateral.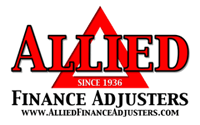 Grace Recovery Services, LLC is fully licensed, bonded, and insured. We are proud members of Allied Finance Adjusters, who is a national trade association dedicated to the advancement and continuing education of the repossession industry. We are covered by the Allied Client Protection Bond of $ 1,000,000.00.
Grace Recovery Services, LLC has completed Recovery Specialist Certification training programs through CARS - Certified Asset Recovery Specialist and RSIG - Recovery Specialist Insurance Group to be Certified Recovery Agents. We are also in compliance with The Consumer Financial Protection Bureau through Vendor Transparency Solutions, and have been vetted by RISC and are ARA compliant as well.